Knee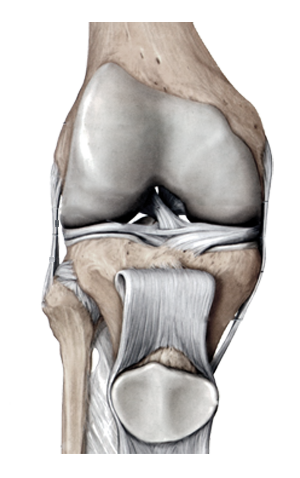 The knee is the largest joint in the body. The upper and lower bones of the knee are separated by two discs (menisci). The upper leg bone (femur) and the lower leg bones (tibia and fibula) are connected by ligaments, tendons, and muscles. The surface of the bones inside the knee joint is covered by articular cartilage, which absorbs shock and provides a smooth, gliding surface for joint movement.
Most people have had a minor knee problem at one time or another. Most of the time our body movements do not cause problems, but it's not surprising that symptoms develop from everyday wear and tear, overuse, or injury. Knee problems and injuries most often occur during sports or recreational activities, work-related tasks, or home projects.
Although a knee problem is often caused by an injury to one or more of these structures, it may have another cause. Some people are more likely to develop knee problems than others. Many jobs, sports and recreation activities, getting older, or having a disease such as osteoporosis or arthritis increase your chances of having problems with your knees.
Injuries are the most common cause of knee problems. Sudden (acute) injuries may be caused by a direct blow to the knee or from abnormal twisting, bending the knee, or falling on the knee. Pain, bruising, or swelling may be severe and develop within minutes of the injury. Nerves or blood vessels may be pinched or damaged during the injury. The knee or lower leg may feel numb, weak, or cold; tingle; or look pale or blue.
Common knee issues
Arthritis
Torn meniscus
Ligament injuries (ACL/PCL/MCL/LCL)
Posterol lateral corner injuries
Muscle injuries
Kneecap instability / Crondromalacia
Boney growth / defect
Haj Ortho knee procedures
Knee replacement
Visco supplementation injection
Cortisone injection
PHP injection